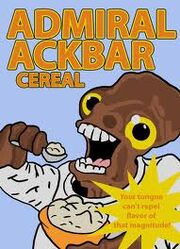 Admiral Snakbar Cereal is a cereal range based on the legendary
Rebel Alliance
and New Republic Admiral,
Ackbar
. The cereal range made
Dac
one of the most profitable planets in League Territory, since it already had a prospering fishmonger business.
Mon Mothma originally designed the Ceral but since then it has become the Galaxy's number one snack, available in all good retail stores.
Youtube Clip
Ad blocker interference detected!
Wikia is a free-to-use site that makes money from advertising. We have a modified experience for viewers using ad blockers

Wikia is not accessible if you've made further modifications. Remove the custom ad blocker rule(s) and the page will load as expected.