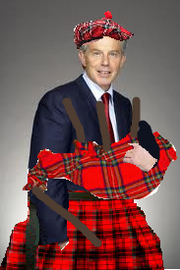 Captain Scotland was a
Maths Mafia
Ambassador who went to greet the Ambassadors for the Forces of Good (
Spein
and
The Scot
) which soon led to the
Duel of the Scots
. Captain Scotland had brought a nuclear device to the duel to ensure his victory, and after his aide
Sergeant Boring
was killed, he activated the device. However, in a stunning move, and thanks to their military training, the Scots managed to disarm the device and destroy Captain Scotland in the process, eliminating two members of the Maths Mafia in a single campaign, and proving that the Mafia could indeed be injured.
He is apparently the brother of Tony Blair as he looks a lot like him. He also likes Physics.
Ad blocker interference detected!
Wikia is a free-to-use site that makes money from advertising. We have a modified experience for viewers using ad blockers

Wikia is not accessible if you've made further modifications. Remove the custom ad blocker rule(s) and the page will load as expected.