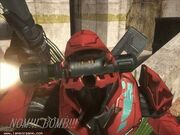 Although usually not impressed by the culture of Humans, some Covenant feel the need to get down with Human radness and incorporate elements of Human culture into their already twisted religion. These guys take their job too seriously, using words like 'YOLO' and '$WAG'.
Pages in category "Da Gangs"
Ad blocker interference detected!
Wikia is a free-to-use site that makes money from advertising. We have a modified experience for viewers using ad blockers

Wikia is not accessible if you've made further modifications. Remove the custom ad blocker rule(s) and the page will load as expected.