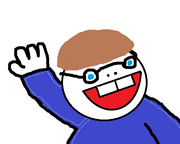 Over the years there have been many who criticize the actions of the League and some who even oppose it. The League's actions and leadership are certainly unorthodox, but the League itself is very popular throughout the Galaxies and its critics and enemies are often frowned upon. However, they remain still:
Critics of the League
Enemies of the League
Ad blocker interference detected!
Wikia is a free-to-use site that makes money from advertising. We have a modified experience for viewers using ad blockers

Wikia is not accessible if you've made further modifications. Remove the custom ad blocker rule(s) and the page will load as expected.