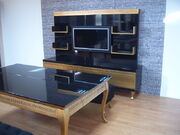 This is the power that Trask Ulgo uses to hide himself away from his enemies... and his friends. In this case, Rarth Devan.
He can literally disguise himself as anything.
The potential disguises include:
Desk
Couch
Table
Chair
Medical Droid
Pillar
Vending Machine
Wall
Door
A Bed
Footlocker
Ad blocker interference detected!
Wikia is a free-to-use site that makes money from advertising. We have a modified experience for viewers using ad blockers

Wikia is not accessible if you've made further modifications. Remove the custom ad blocker rule(s) and the page will load as expected.