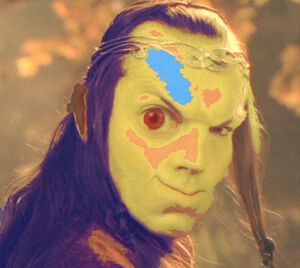 'Elf King and the Erlkonigs' is a band that operated in
Middle Earth
at around the same time as the
Sarumen
, and were their main competitors and occasionally allies. The Elf King was the stage name of
Elrond
, High King of Rivendell, who dressed up in face paints and glitter and performed live on stage with his Erlkonigs, who were actually Lady
Galadriel
and Celeborn in disguise.
Elrond played lead guitar and sang most of the male melodies, Galadriel played drums but also sang the female melodies, and Celeborn played bass and triangle, plus any other instruments he could fit into his carriage. After Celeborn's death during the War of the Ring, the band recruited Legolas instead, who then sang the female melodies alongside Galadriel.
Ad blocker interference detected!
Wikia is a free-to-use site that makes money from advertising. We have a modified experience for viewers using ad blockers

Wikia is not accessible if you've made further modifications. Remove the custom ad blocker rule(s) and the page will load as expected.