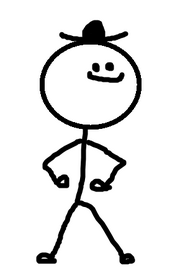 Get-out-of-it-George, as his name suggests, is an escapeologist who often has to apply his skills in getting out of trouble to real-life situations considering he's friends with people like
Sid
,
Slyguy
,
Crazi Stan
and
Mace
. Reluctantly drafted into the crime-fighting team, George wants nothing better than to settle down and relax but every other day a crazy super villain attacks a city somewhere in the world and he has to help in saving the day. It's a tough life for old George.
His Hat, however, has other ideas. Being sentient, George's Hat often pushes George into the spotlight of the team by conjuring up crazy tools and other items to get everyone out of trouble.
Oh, and he has his own ringtone. It kind of goes like:
Get out of it ,
Get out of it,
Get out of it GEORGE!
...
If you could hear that, it would sound so much better, but alas no. The League apologises for the inconvenience.
Ad blocker interference detected!
Wikia is a free-to-use site that makes money from advertising. We have a modified experience for viewers using ad blockers

Wikia is not accessible if you've made further modifications. Remove the custom ad blocker rule(s) and the page will load as expected.