Gungans are irritating idiots that live on
Naboo
. They are amphibian water-dwellers that talk in a weird accent, and are supremely annoying. They have a suppsedly 'Grand Army' but they are failures and are even beaten by the failure that is the
CIS
.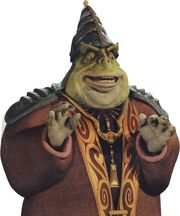 Their boss is called
Boss Nass
and he is a freak. However, he is not the freakiest of his race.
Jar Jar Binks
, a Gungan who is not only supremely annoying but also idiotic and insane has left Naboo and has brought tyranny throughout the Galaxy.
Ad blocker interference detected!
Wikia is a free-to-use site that makes money from advertising. We have a modified experience for viewers using ad blockers

Wikia is not accessible if you've made further modifications. Remove the custom ad blocker rule(s) and the page will load as expected.