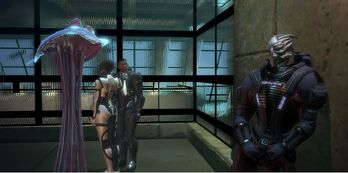 The Hanar are basically big pink jellyfish. But they are really polite big pink jellyfish. They are also very religious and worship the Protheans or "Enkindlers". They originated on the planet Kahje, which has 90% ocean cover and so many Hanar tend to favour more aquatic planets, such as Manaan or Dac.
Hanar are usually very tall and stand on long, thin tentacles. They have really smooth and nice-sounding voices and always refer to themselves in the third person. Even when they are trying to kill someone they will throw polite insults and curses to ensure that their enemy is not too offended by them.
Hanar seem to get on especially well with Engineers, probably because both races hate fighting, are really polite, and are both pink. Hanar also get particularly excited when they are around Protheans, as shown below: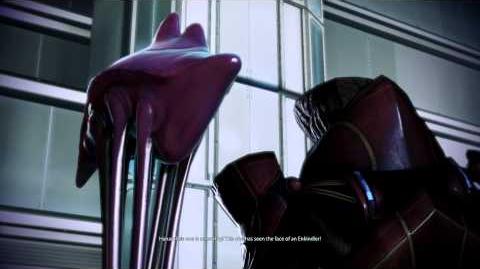 Ad blocker interference detected!
Wikia is a free-to-use site that makes money from advertising. We have a modified experience for viewers using ad blockers

Wikia is not accessible if you've made further modifications. Remove the custom ad blocker rule(s) and the page will load as expected.