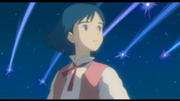 Now one of the most powerful and well-known wizards in the kingdom of Ingary, Howl came from a humble background- Wales. His name on Earth was Howell Jenkins Pendragon. He also goes by other Alaises such as: Wizard Jenkins, Wizard Pendragon, and Wizard Howl.
Howl likes to spread rumours and pretends to eat the hearts of young ladies, which is not a nice hobby. But it works in making most people avoid him. Some annoying things still persue him and cause trouble for him.
Howl later marries Sophie, his cleaning lady, when the aging spell on her was broken. They ride off into the sunset on the balcony of his moving castle.
Sometimes Howl is blonde. Sometimes Howl has black hair. Sometimes he is a bird.
Ad blocker interference detected!
Wikia is a free-to-use site that makes money from advertising. We have a modified experience for viewers using ad blockers

Wikia is not accessible if you've made further modifications. Remove the custom ad blocker rule(s) and the page will load as expected.