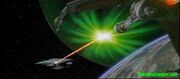 The Human-Klingon War was a conflict between the
Human Race
and the
Klingons
. The war started when the Klingons got irritated because
Spock
knowns everything, and declared war on the
Federation
. The Klingons were utterly destroyed by Spock's mind powers, and were thusly relegated to a mere three ships in their once vast navy. As the Human fleet surrounded their home planet of
Kronos
, they quickly drew up a fair peace treaty which the Humans graciously accepted.
Since then, the Humans and the Klingons have been close allies, because, like the Elites, the Klingons have a great amount of respect for powerful races who are worthy in battle.
Ad blocker interference detected!
Wikia is a free-to-use site that makes money from advertising. We have a modified experience for viewers using ad blockers

Wikia is not accessible if you've made further modifications. Remove the custom ad blocker rule(s) and the page will load as expected.