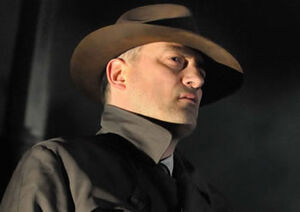 Inspector Goole, aka Ghoul, Gool, Goul, Goal, Guol, Goaul, Gooooooogle, Gujl, Googleoogleoogle, Guwl, Guoawl, Guwaol, Gwuyaol or whatever else you want to call him, is a stange time traveller/ghost/alien/psychic/whatever else you want to call him, who can demolish three storey terraced houses with his rage and knows what you are going to say/think/do/eat.
He owns a magic photograph which makes people see what he wants them to see, and he is beginning to remind me a lot of another weird time traveller.
He also hates rich people and is occasionally scottish.
Ad blocker interference detected!
Wikia is a free-to-use site that makes money from advertising. We have a modified experience for viewers using ad blockers

Wikia is not accessible if you've made further modifications. Remove the custom ad blocker rule(s) and the page will load as expected.