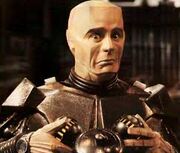 Kryten is a service mechanoid, currently working on the mining ship
Red Dwarf
, and looks a lot like he took his car to the crushers and forgot to get out. He enjoys cleaning and tidying, and polishing and painting and fixing and ironing and doing washing. Oh, and he also loves to talk to his spare heads. He is friends with
Dave Lister
,
The Cat
, and... well... dislikes
Rimmer
greatly, which is understandable.
He cannot tell a lie, so gets a thumbs up from Dolores Umbridge. He fell in love with a giant green blob, and loves the show "Androids." (Androids have feelings too!) He is a skilled painter, and once painted a picture of Rimmer on the toilet, stating he was rebelling. He then went on to fly away on Lister's space bike in leather gear, and crash into an asteroid. Lister rebuilt him. All in all an 100% successful trip...
Ad blocker interference detected!
Wikia is a free-to-use site that makes money from advertising. We have a modified experience for viewers using ad blockers

Wikia is not accessible if you've made further modifications. Remove the custom ad blocker rule(s) and the page will load as expected.