Voldy-Mort is another user of the
Trolling
powers, and can also use magic. This means he is a great threat as apparently guns dont work on him. But then again, no-one has ever tried shooting him. Weird, really. Possibly because he has many henchmen, one of which is similar to
Moogle
, one of the leaders of the
Five
, and another who is just
Ludicrous
.
Thats about everything really, apart fromt he fact he is the most socailly awkward fishfaced egghead in the whole goddamn universe.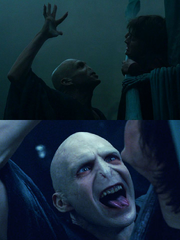 Oh, and he's really weird when it comes to his arch-nemesis
Harry Potter
. He can occassionally make people pretty scared. He also bears a slight resemblance to
these
guys
, which doesn't help.
Youtube Clip
Edit
Ad blocker interference detected!
Wikia is a free-to-use site that makes money from advertising. We have a modified experience for viewers using ad blockers

Wikia is not accessible if you've made further modifications. Remove the custom ad blocker rule(s) and the page will load as expected.