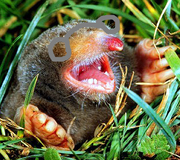 Mini-Mole is a lesser member of the
Maths Mafia
who served under
Mole Man
as his plus one. Many believe that Mole Man gave Mini-Mole his DJ equipment when he retired from DJ duties and became a full-time Mafia member. Mini Mole likes ripping up pictures and he also hates ducks. Along with
Chosen Juan
, he is thought to have an ongoing rivalry with
Mr. Rage
.
It is thought that he escaped the Fall of the Maths Mafia and is thought to be at large. If so, this would make him one of the last of the Mole Men.
Ad blocker interference detected!
Wikia is a free-to-use site that makes money from advertising. We have a modified experience for viewers using ad blockers

Wikia is not accessible if you've made further modifications. Remove the custom ad blocker rule(s) and the page will load as expected.