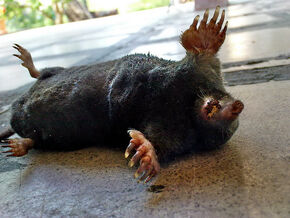 Mole Men are obese humanoids that eat dirt. They have a habit of sitting in one place and not moving at all until they are forced to by tectonic movement. They originated on an asteroid, called '
Rock
', but some have traveled to
Earth
and used their natural Mole-esque looks to blend in.
Their species was attacked by the
Money Spiders
during the
Galactic Credit Crunch
in a conflict called the
Battle of Rock
, which wiped out a lot of their race and terminated their membership in the ailing
Galactic Council
. The survivors of this battle came to Earth, notably
DJ Thursbinator
and
Mini-Mole
.
These survivors set up a colony in an Earthen playing field, directly underneath some astro-turf.
Ad blocker interference detected!
Wikia is a free-to-use site that makes money from advertising. We have a modified experience for viewers using ad blockers

Wikia is not accessible if you've made further modifications. Remove the custom ad blocker rule(s) and the page will load as expected.