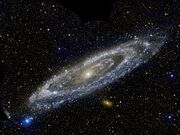 The Mushroom Galaxy is a small Galaxy that is home to
'Super' Mario
, and no-one else really. Its planets mostly consist of creepy, mysterious creatures that are utterly hostile, and the fact that the Galaxy itself is so small (only a few hundred planets, if that) means that it is of little importance to the majority of the League. However, it is good for tourism, and also sporting events.
Sonic the Hedgehog also lives here.
Ad blocker interference detected!
Wikia is a free-to-use site that makes money from advertising. We have a modified experience for viewers using ad blockers

Wikia is not accessible if you've made further modifications. Remove the custom ad blocker rule(s) and the page will load as expected.