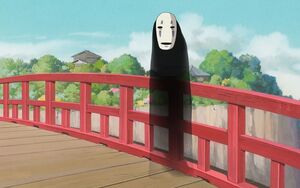 No Face is a creepy guy who bears a resemblance to the Creepy Creeper, apart from the fact that he has a mask on.
No Face pursues people silently, but gets angry if he eats the wrong things. The Mask on his face is actually his eye, the mouth is located beneath the mask and only opens when he is about to attack.
No Face turns into a giant bloated monster if he gets angry, which is not a lot since he is usually quite calm.
Ad blocker interference detected!
Wikia is a free-to-use site that makes money from advertising. We have a modified experience for viewers using ad blockers

Wikia is not accessible if you've made further modifications. Remove the custom ad blocker rule(s) and the page will load as expected.