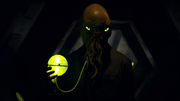 Ood Man is an
Ood
and is one of the loyal assisstants of
Emperor Wassabe I, Destroyer of all that is Good
, and forms part of Wassabe's team dedicated to writing lies to smear the reputation of the
Doctor
. Ood Man is not a willing participant in this venture however, but since he is an Ood he has to obey. Years of regret and shame in his actions against the Doctor for the twisted Wassabe have rendered Ood Man insane, so all he can say is 'OOD!'.
Ood Man rages at Wassabe's twisted lies and he is chained up in the office of lies to prevent him from killing people. However, Wassabe sees the rages as encouragement and so Ood Man gets even madder.
Ad blocker interference detected!
Wikia is a free-to-use site that makes money from advertising. We have a modified experience for viewers using ad blockers

Wikia is not accessible if you've made further modifications. Remove the custom ad blocker rule(s) and the page will load as expected.