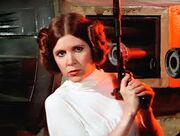 Princess Leia is a leader of the
Rebel Alliance
and daughter of
Darth Vader
. She is technically a
Jedi
but she doesn't learn of her skill until after the
Galactic Civil War
, leaving everyting to her brother
Luke until
the problem is over. Along with
Admiral Ackbar
and
Mon Mothma
, she goes on to re-establish the Galactic Republic after the fall of the
Empire
.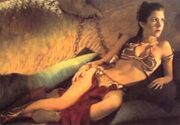 She also has several other jobs all over the Galaxy, like modelling for Jabba the Hutt, being a waitress on Bespin, a teddy bear tamer on Endor, a mechanic in some asteroid monster, a singer on Yavin 4, a hairdresser on Alderaan and a Senator on Coruscant.
Ad blocker interference detected!
Wikia is a free-to-use site that makes money from advertising. We have a modified experience for viewers using ad blockers

Wikia is not accessible if you've made further modifications. Remove the custom ad blocker rule(s) and the page will load as expected.