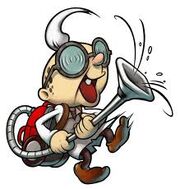 Professor E.Gadd is a crazy scientist who lived on a volcano for the majority of his early life. He later moved to a Wood inhabited by ghosts, and used his awesome machine, the Poltergust 2000, to suck up the ghosts and store them as pictures.
He also created Stuffwell, for no particular reason.
Ad blocker interference detected!
Wikia is a free-to-use site that makes money from advertising. We have a modified experience for viewers using ad blockers

Wikia is not accessible if you've made further modifications. Remove the custom ad blocker rule(s) and the page will load as expected.