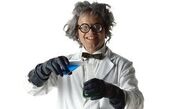 Sammy Sammy Mithe is a scientist who was a member of the Maths Mafia until he left due to boredom and his love of science. He also actually likes children, and loves putting on shows to show how awesome science is.
He joined the Maths Mafia because he needed their funding for a project, involving large hot air balloons. But he quickly realised that he had got into the wrong crowd and at one meeting he announced he was leaving. The Maths Mafia did not like this too much, so they set Poundington on him. Sammy beat Poundington with science, then fled.
He is now one of the League's leading scientists and their armed forces give him protection against the Mafia.
Ad blocker interference detected!
Wikia is a free-to-use site that makes money from advertising. We have a modified experience for viewers using ad blockers

Wikia is not accessible if you've made further modifications. Remove the custom ad blocker rule(s) and the page will load as expected.