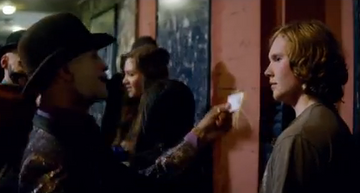 SuperNutty is the name given to an individual who has been sighted at several concerts, gigs and 'dos' over the past few years. Intelligence agents report strange behaviour associated with this person, such as his indifference to giant pandas, clowns and strange men with musical instruments dancing around on stage.
His presence on Earth was brought to the public attention by a general health warning published by the Ministry of Failure disguised as a music video. However, customary with the Ministry of Failure, their plan failed miserably and everyone just assumed that it was another music video. Lesbitrix took part in this video as well, and it is her only recorded sighting.
SuperNutty did not take part in the War on the Maths Mafia on principle, as he could not attack music. He did, however, play an important role in the Stythe Wars, leading the Swords of the Soundboard against the Cult of Stythe in many battles and finally ending Reverend Salazar Stythe's regime of anti-musical-ness.
SuperNutty's powers include the Stare of Rape and the Hair Flick of Death. He is also chairman of a blog designed to indoctrinate Humans into the realm of strange music. However, he has a long-standing indifference to Emewafwawa. In fact, he has an indifference to everything League-related...
He led his travelling companions on a long walk that seemed like it took forever, in the hunt of an ice-cream van.  SuperNutty finally reached the ice cream van, only to realise that he had no money, and since all of his companions had gone, he went home. However, some time later, a strange Mystery came about that may or may not have changed SuperNutty forever...
He is, however, apparently an... associate... of Shirazzle Dazzle, and constantly teases Shirazzle about his generally retarded visage. To this day, Shirazzle has not been able to pinpoint which facet of his demeanour Nutty finds so offensive...
Eventually, following the Stythe Wars, SuperNutty usurped Emewafwawa's mantle of musical maestro, set up the Soundboard, and ended up going insane, claiming that all of Music belonged to him and him alone. When the various members of the Swords of the Soundboard began to defect to the newly formed Bound Swords faction, SuperNutty flew into a rage and summon the Order of the Soundfellas to fight for him, he was so desperate to keep his position as musical maestro that he turned on his former friends and even fought against the Omnipowerful Oracle in the name of the once-great Soundboard.
Ad blocker interference detected!
Wikia is a free-to-use site that makes money from advertising. We have a modified experience for viewers using ad blockers

Wikia is not accessible if you've made further modifications. Remove the custom ad blocker rule(s) and the page will load as expected.