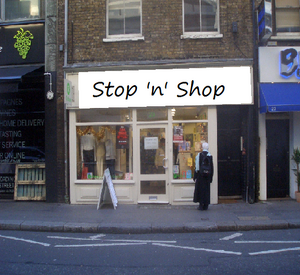 The Stop 'n' Shop is an establishment set up by an Italian guy who's actually English. The shop is located right next door to the Grunt Stop, and basically sells everything. EVERYTHING.
The guy who runs it is a lunatic, and supplies the Five with all their goods for their nefarious deeds. The shop sells food, drink, medicine, guns, grenades, drugs and tanks.
The last time the owner of this shop was seen he was reported to have been under the influence of drugs.
Ad blocker interference detected!
Wikia is a free-to-use site that makes money from advertising. We have a modified experience for viewers using ad blockers

Wikia is not accessible if you've made further modifications. Remove the custom ad blocker rule(s) and the page will load as expected.