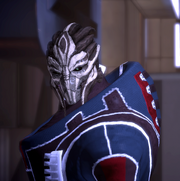 Turians are a militaristic race of beings from the planet
Palaven
. They are a member of the League military and also of the Tri-Council, which holds stewardship over their particular sector of the Galaxy as well as the Mass Relays. Turians and
Elites
form the backbone of the League Security Forces as well as being a major part of the League Government.
The Turians were brought to the brink of extinction during their war with the Reapers after their homeworld was razed, but luckily thanks to help from the Humans the race is back on its feet. The Turians and the Humans share a close link, and since the Reaper War the Turians have drifted slowly away from the crumbling Tri-Council of the Mass Relays and closer towards the League Government.
Turian society is based on warfare and honor, but unlike the Elites they are not prone to being deceived or controlled by higher powers. Many Turians share a unified respect for races that show their prowess in battle, and because of this the Elites, Turians and Humans have ganged up together in the League Military. The Turians also express admiration for the likes of the Daleks and the Hunters, but these races are less inclined to side with 'weaker' races.
Turian religion is based around the court of cool, and because of this many Turians feel the need to lean against walls with their arms folded in an attempt to look cool.
Ad blocker interference detected!
Wikia is a free-to-use site that makes money from advertising. We have a modified experience for viewers using ad blockers

Wikia is not accessible if you've made further modifications. Remove the custom ad blocker rule(s) and the page will load as expected.