Weasel, full name Howard 'The Weasel' Montague, is a guy who owns a magic pen.
The pen is one of many objects scattered around the world that do different things. The Pen microwaves people ont he spot, and its indestructible because its an object.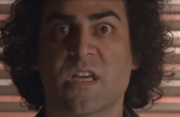 This severely overpowered weapon was taken from him at one point and he did everything he could to get it back, even asking
Sood
. Sood responded to his fifteenth call to his shop by shouting 'Weasel! How many times do I have to tell you get your STINKING CARCASS out of my shop!'
(Note: Sood runs a Stop)
Ad blocker interference detected!
Wikia is a free-to-use site that makes money from advertising. We have a modified experience for viewers using ad blockers

Wikia is not accessible if you've made further modifications. Remove the custom ad blocker rule(s) and the page will load as expected.